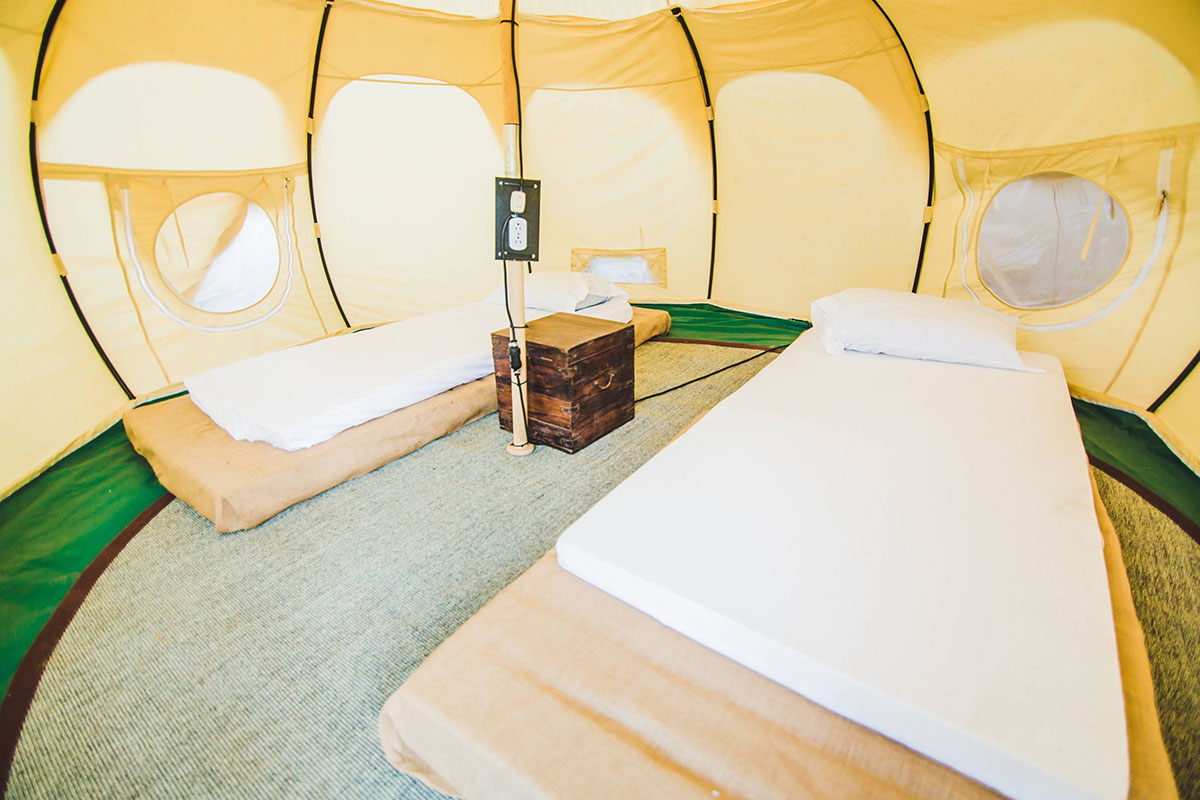 We offer 3 levels of belle tents for hire, you can book them for the whole event or only for the Indigenous Immersive or Dance Celebration.
LOTUS DELUXE: Gorgeous tear-drop shaped 5 m diameter lotus bell tent, 3.3 m tall in the center, Balinese antique furniture, king size bed with 15 cm thick latex mattress, bedding, electricity, fan, lamp, rug, cushion, 2 chairs and lockable wooden chest. The maximum is 2 guests per tent.
LOTUS BELLE: Beautiful tear shaped 4 m diameter lotus belle tent, 3 m tall in the center, 2 single 7 cm thick latex mattresses on pallet beds, bedding, electricity, fan, lamp, rug, cushion and hand made Moroccan lockable wooden trunk to store your valuables. Max. 2 guests per tent.
CLASSIC BELLE: Classic belle tent, 4 m diameter, pitched in designated area. No center pole. Comes in two price options for either 2 or 3 latex mattresses with pillows. It also features a solar light. Max. 3 guests per tent.
Lotus Glam Camp is situated in a secured area, featuring its own showers, toilets and washing facilities, right at the waterfront to enjoy the relaxing sounds and breath-taking views of the Caribbean Sea. Classic Belle tents are pitched together in a secured area and share the public toilets and washing facilities.

Availability is very limited! Act soon so you dont miss your chance to enjoy the next level on festival dwelling!
Camping at Tribal Gathering is FREE for attendees bringing their own camping equipment. For those who want to travel light but not ready for glam camping, we also have available single or double occupancy dome tents, air mattresses and self-inflatable sleeping pads for rent. We also offer 2 type of hammocks and tarps for extra protection for your tent or hammock.
SINGLE TENT: Double door, 2 x 1.80 m, polyester fabric with outer layer, no center pole.
DOUBLE TENT: Dome tent, 2.40 x 2.10 m, polyester fabric with outer layer and small front porch area, no center pole.
SELF-INFLATING SLEEPING PADS:
Single (1.86 x 60 x 3.5 cm)
Double (1.86 x 120 x 3.5 cm)
TARP: Polyester, 3 x 3 m, pole height: 2m, to protect give your tent or hammock an extra protection against the rain and the heat from the sun.
HAMMOCKS:
Traditional Woven Cotton
Nylon w/Mosquito Net

Come to claim your camping gear at the info desk and go find your favorite spot to camp within the festival grounds. At the end of the event please, pack your camping equipment and drop it off at the Hub before you leave.
To secure availability, you can book online clicking on the link below. If still available, you might be able get them at the event's info desk without previous booking, first come first serve basis.
Keep the venue clean and respect the beautiful nature around you.
Please do not bring outside food items, beverages, alcohol, glass, weapons, trash, illegal items or pets.